I must confess, I love casinos like the ones in Las Vegas. Even though I don't drink or gamble, there's something about the bright lights, glitz, and glam that make casinos like Vegas and Seattle's Tulalip Resort Casino attractive. Thus, our Asia 2016 tour had to include a stopover in the Las Vegas of Asia: Macau (also spelled Macao). Indeed, more revenue from gambling is generated here than anywhere else in the world, reportedly seven times the revenue of Las Vegas, and many of the iconic Vegas hotels and casinos can also be found here.
Walking through The Venetian in Macau really didn't feel that different from its Vegas counterpart; everything was the same, including the faux painted skies and gondola rides. But apart from similar aesthetics and designs, Macau has an entirely different vibe, and it's actually quite tough to compare it to Vegas. Some travelers might find this disappointing, but I found the surprising charm, character, and history of the former European colony to be fascinating. It's a place I'd love to return to someday and explore further.
See more travel photos of Macau.
Macau Travel Stats
2 Days
28.46 Miles Walked
80°F Avg Temp
94% Avg Humidity
Item lost: cell phone
Where is Macau
Located on the continent of Asia, Macau is a dependent territory of China. With a population of around 650,000 spread over an area of 11.8 square miles, Macau is considered the most densely populated region in the world. Despite the density, this region is also among the richest, thanks largely to being the world's largest gambling centers. Most visitors come to Macau as a day trip from Hong Kong.
Macau Weather
Thanks to its southern location, Macau has a very humid subtropical climate. Average humidity is generally around 75% to 90%. The warmest month of the year is July, where the average temperature is 84°F. Meanwhile, the coolest month is January where the climate can be as low as 58°F.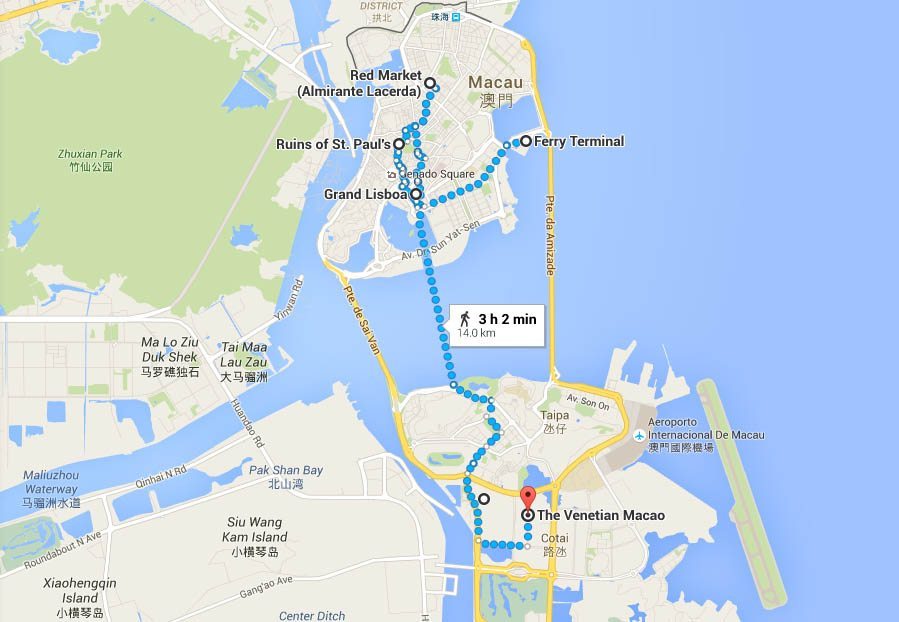 Currency and Affordability
The official currency is the Macanese pataca, which was first introduced in both Portuguese Macau and Portuguese Timor in 1984.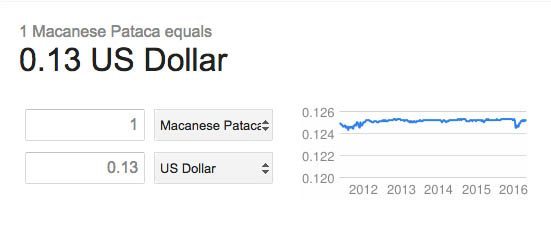 Getting to Macau
Entering Macau is very easily done via a ferry from Hong Kong. Ferries from Hong Kong to Macau run 24 hours a day, at intervals of 15-30 minutes during the day and each hour at night. Thus, ferries are the easiest and most affordable ways to get into Macau. Economy class tickets on a modern Turbo Jet (with free Wi-Fi!) that will get you from Hong Kong to Macau in about an hour will cost around HKD 164 (~ $21USD), with ticket prices being slightly higher during the evening and on weekends.For many years, this was the main way for visitors to get in and out of the country. In recent times, however, direct flights have made it possible to fly directly into Macau.
Upon arriving at the main ferry terminal in Macau, you'll then need to taxi or bus to your final destination, which will likely be one of two major entertainment zones in Macau. Many hotels and casinos provide free shuttle bus transportation.
Entry Requirements
Even though Hong Kong and Macau are officially part of the People's Republic of China, both are designated as Special Administrative Regions (SAR), meaning that a Chinese visa is typically not required to enter either Hong Kong or Macau. This, of course, does depend on which passport you hold and how long you plan to stay, but it was not a problem for two Americans with a 2-day trip planned.
Where to Stay in Macau
Government regulations do not allow hostels to operate in Macau. As a result, it is is not an easy travel destination for backpackers and travelers on a budget. Luckily, you can easily afford a day trip to Macau from Hong Kong at the very least.
In our case, we got extremely lucky and found a private, modern Airbnb apartment rental close to many of the attractions. Conveniently located across the street from the Emperor Palace Casino, the apartment was reasonably priced. But best of all, it had a walk-in bathroom that wasn't the size of a tiny closet. This was a big luxury after experiencing the cramped quarters of accommodations in Hong Kong. Still, it was pricey enough that we only planned for a two-night stay before heading back to Hong Kong.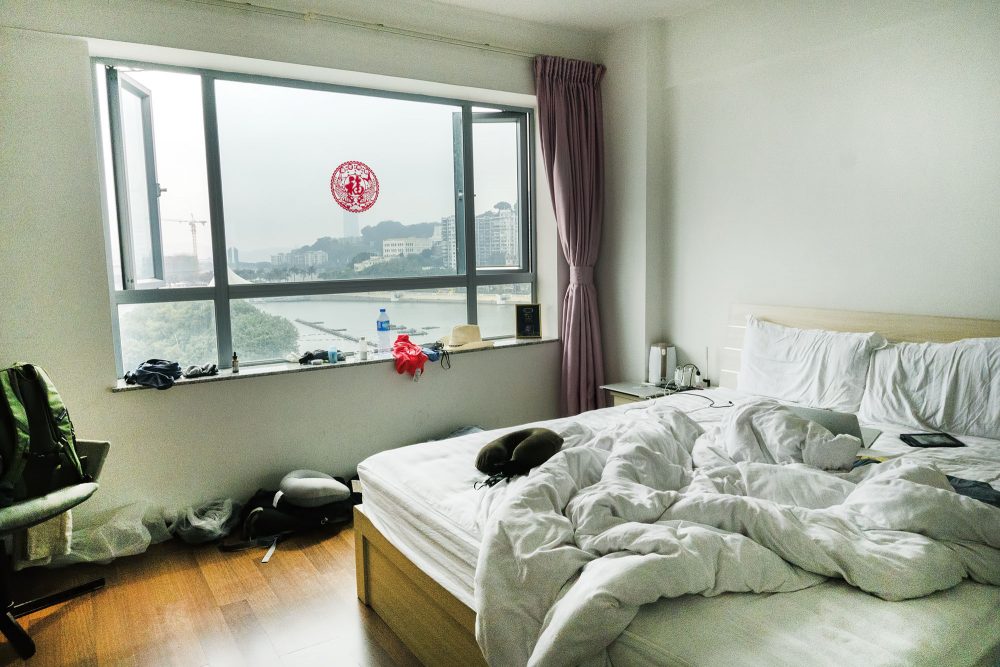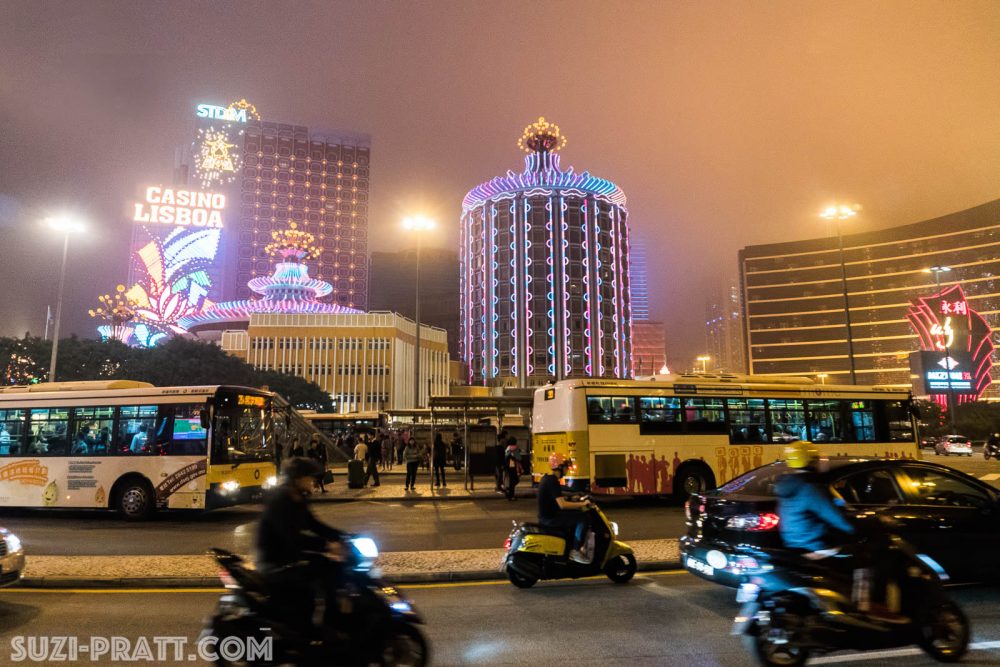 The antithesis of Sin City
Our Airbnb was in the older Macau Peninsula area where the Grand Lisboa, Wynn Macau, and MGM Grand Macau were found. We spent the bulk of our first day debating about whether the shape of the Casino Lisboa's building was an onion or a pineapple (it's a lotus) and strolling through all of its surrounding casinos.
Visually, casinos here trumped those of Las Vegas in terms of newness and overall impressive grandeur. They had a "no photos in the casinos" rule that was very strictly enforced, so there are no images for proof. But we saw some of the most impressive chandeliers and interior designs in the casinos. Many hotel lobbies were also very stunning, especially those of Galaxy Macau. There were also lots of impressive hotel shows such as the unveiling of a 24-carat golden Tree of Prosperity at the Wynn, and the 3-meter Fortune Diamond that rises from a waterfall at the Galaxy Macau.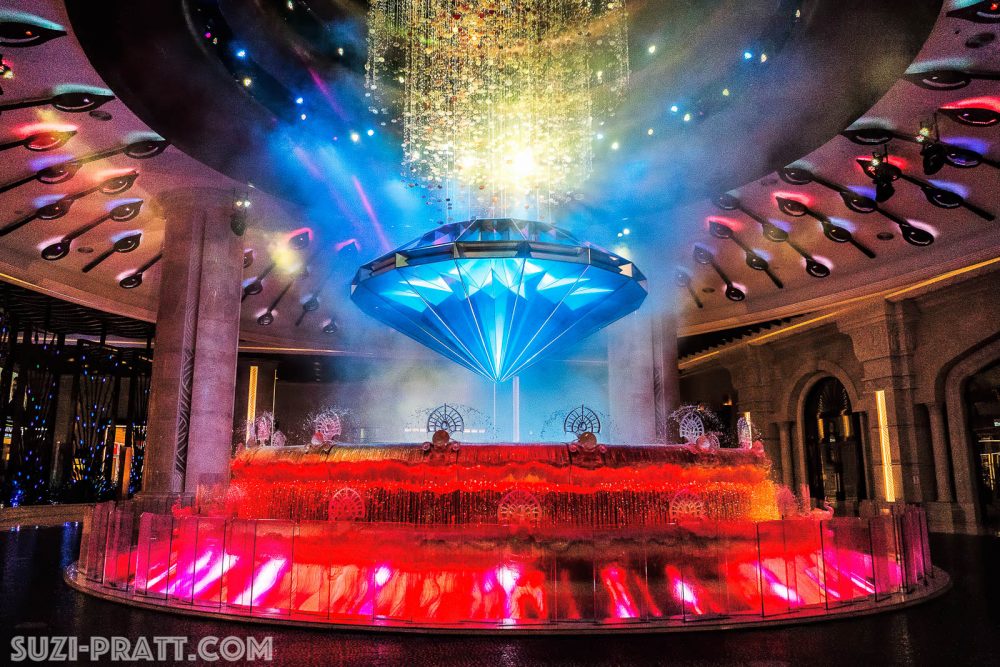 A Tame Party and Nightlife Scene
But for all of the grandeur and the incredibly spotless shine of Macau's casinos, it was severely lacking in the crazy, chaotic, "party all night" vibe that is only found in a place like Vegas. The reason was cultural appropriation. Definitely not a drinking society, don't expect to see the booze-fueled advertising behemoths and the enormous half-yard drinks that dominate Vegas. In fact, we actually struggled to find a lively bar serving any sort of alcohol in certain casinos in the Macau Peninsula.
Instead, the throngs of older Chinese men and women crowding the baccarat tables (poker was nowhere in sight) were sipping hot water and tea. And while some women were scantily clad, there were no go-go dancers and streetside performers. Speaking of entertainment, there were very few advertisements for big-name performers and shows, so the typical Vegas-style entertainment factor was also missing. Take all of this away, and you have a place that looks like Las Vegas but hardly feels like it. In many ways, Macau is the antithesis of Sin City.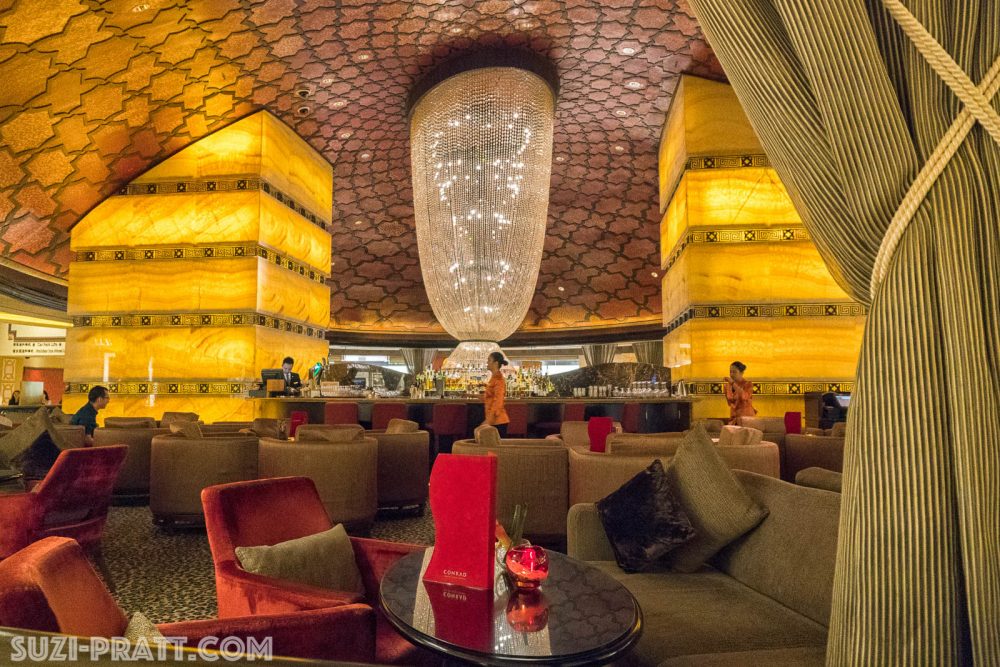 Seeing the effects of the anti-corruption crackdown
Adding to the puzzling vibe was the observation that all luxury shops and malls were empty. Even the many upscale, Michelin-starred restaurants and casinos of Macau Peninsula were like eerie ghost towns. There were absolutely no patrons, yet each venue was fully staffed. This led to awkward moments as tuxedoed security guards warily eyed our camera bags, daring us to snap a photo so they could reprimand us.
In the newer Cotai district, we finally found a much busier scene. There was a more normal flow of people going into casinos and shops, yet the high-end boutiques remained empty. Upon returning to Hong Kong, we reported our findings to our local friend who confirmed that the mainland Chinese have tightly reigned in their spending due to a corruption crackdown in which any obvious displays of wealth triggered an investigation over possible bribery and abuse of power.
The Real Macau
After leaving behind the strange casinos, we ventured into the "real streets." It was out here in the bustling city that we finally fell into our stride. This was the only country we visited in Asia this time around where we couldn't use English. Dining was particularly interesting as we pointed cluelessly menus we couldn't read, attempting to order food. Being robbed of our ability to communicate made our travels here feel the most exotic and authentic.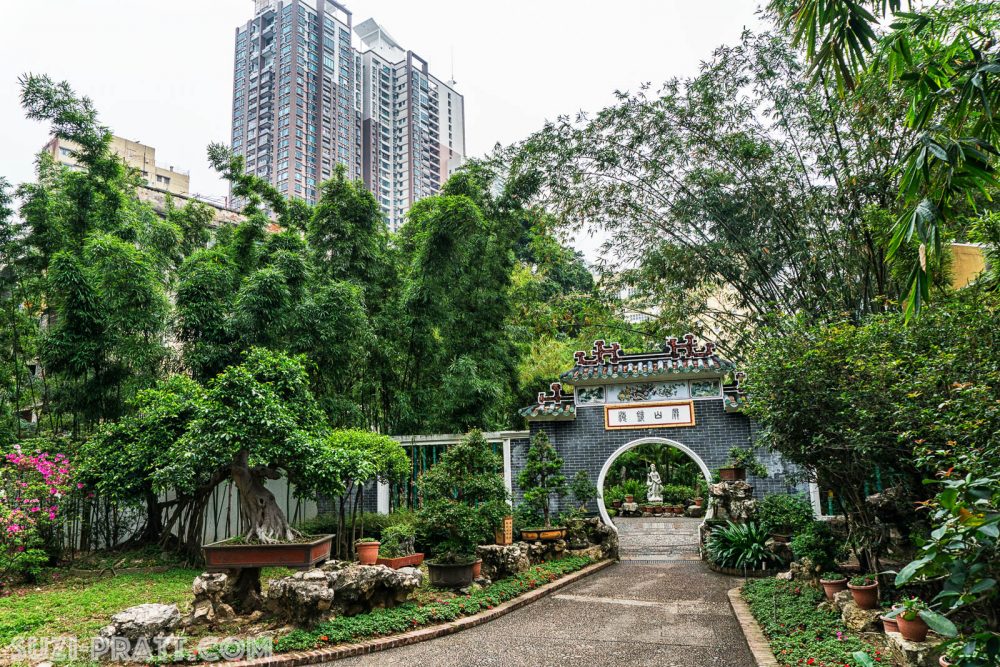 While Macau isn't that large, it is very condensed and full of tall residential buildings and busy streets. Yet compared to Hong Kong, it was significantly less chaotic and more peaceful. Since it was once a colony of the Portuguese empire for over 400 years, Portuguese influence remains. Many of the buildings, especially in the old part of town, retain colonial architectural design. Street signs are in both Chinese and Portuguese. However, Cantonese is the most widely spoken language and it's questionable how many residents know any Portuguese language.
Overall Thoughts
All-in-all, two days was the perfect amount of time to spend in Macau. Our first day gave us time to stroll through the casinos to admire the glitzy, unique architecture that can't be found even in Las Vegas. And our second day let us explore the real streets and people of Macau. From a tourist perspective, there may not be many attractions or activities, especially if you've been to Las Vegas. However, experiencing Asia's version of Sin City is definitely worth a visit.
Personally, I feel that our visit during the low season had an impact on our experience. It's strange to visit a place where tourist attractions are practically lifeless. I would love to return when it's full of more people. I'd also love to get a local tour guide's perspective of Macau. It possesses a mysterious charm that can't quite be cracked in just a two-day stay.